Overview
The 6 series LED 20 inch light bar is one of the most rugged and reliable lights on the market. Typically this light bar is used in forward-facing applications in the bumpers of trucks, jeeps, SUVs, and UTVs. It is sized just right that it fits in most aftermarket bumper openings. The housing is a CNC machined aircraft-grade aluminum that makes it the most durable and high-quality housing on the market. We use the highest-grade LEDs and circuit boards that allow this light to be as bright as it can be while still controlling heat. Internal reflectors have been designed and optimized to shape and put out the best light possible. Make this light yours. Customize the reflector beam configuration to all spot, all flood, or combo. Chose between a clear lens or get an amber lens for dusty and foggy conditions. 

Details/Specs
(20) 6-watt CREE LED

Full 120 watts driven at 100%

14520 lumen

6061 billet housing

22 x 2 x 1.5

I-P68 rated s

tainless steel mounts

Weight 3 lbs

Amp draw 11.3 Peak at 13.8V

LUX at 10m: 4125

Candella: 412500 
Kit Includes:
20" LED Light bar

Bumper Light Mounting Brackets

Upfitter wiring adapters
Installation Guide
Click to Download:
Customer Reviews
07/11/2022
Paul B.

United States
Perfection!
Absolutely the best lights you could buy made in USA!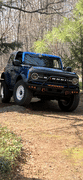 20 minute install and great product
I bought this from Heretic for my 2022 Ford Bronco 2-door Badlands with the modular steel-front-bumper. I have the pre-wired Aux switches. I did have to pick up a Torex 40 bit to take the bolts out off the bumper to install the light mount. But once I had the right Torex 40 it was a 20 minute install to the bumper and to connect the wiring. Heretic sends the wire harness with the light...that is not clear when you purchase it. The light is probably 5x as my high-beams. Very happy with my purchase. Now I'm just waiting for my fog lights to come.
Awsome install
I received my 2022 Badlands Bronco a week ago. Installed the 20 inch bronco kit in just over an hour. The install was almost to easy, the way heretic built the kits around the factory Installed wiring and bronco bolts made the install a breeze. I would recommend that anyone installing this bronco kit make sure you have a Torx plus tp40 to avoid striping the bronco bolts. I chose the amber light after seeing a YouTube video posted by Justin B Mcbride. He explained the benefits for amber lights below the headlights. I was surprised hoe well the amber lights cut thru the falling snow and added definition to the road.