Toyota Tundra TRD Pro: Unleash the Power of the 20" LED Light Bar Behind the Grill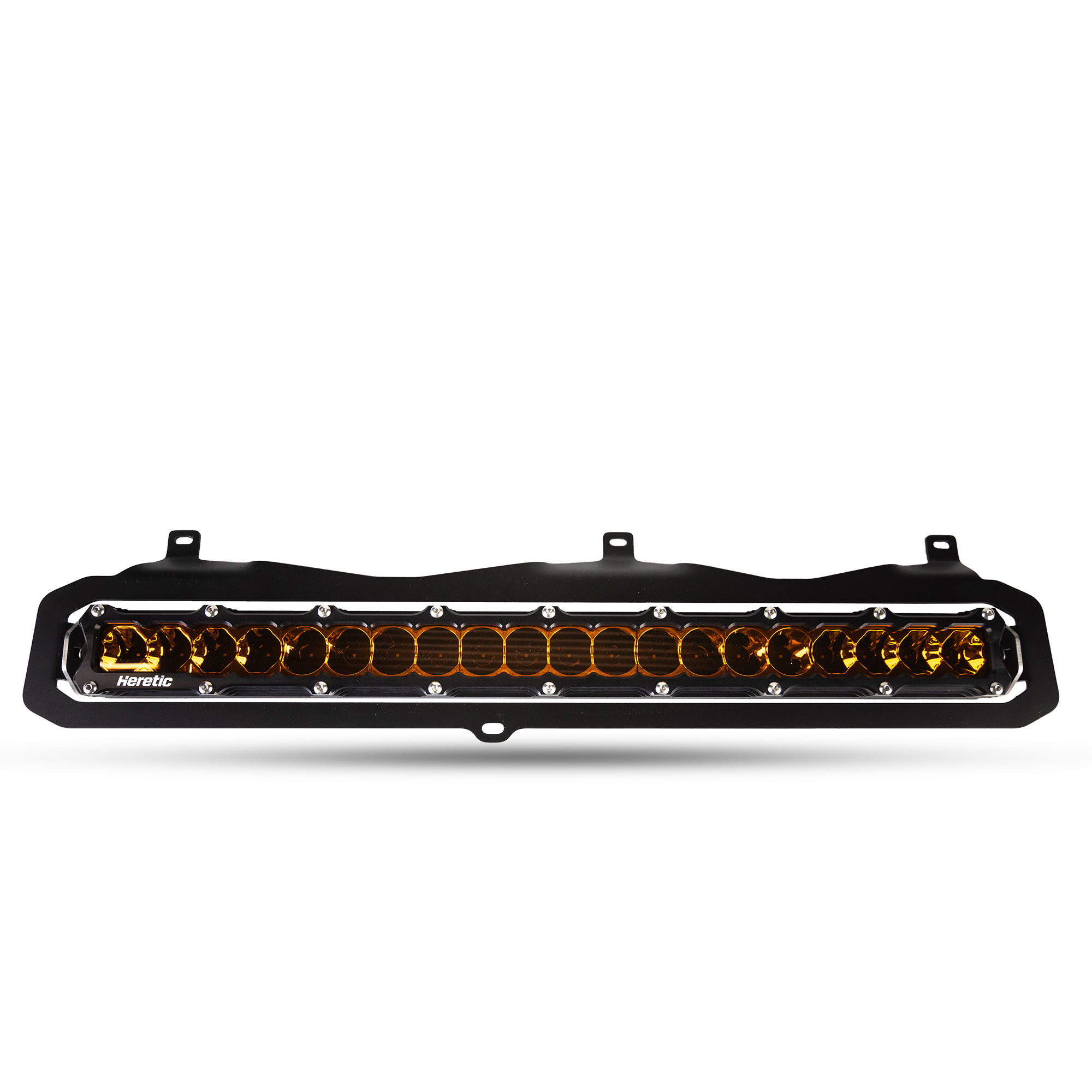 If you're a proud owner of a Toyota Tundra TRD Pro seeking to enhance your off-road adventures, we have the perfect solution for you. Introducing our Toyota Tundra TRD Pro Behind The Grill - 20" LED Light Bar kit, designed to elevate your driving experience with unparalleled visibility and rugged reliability. Let's dive into the details and discover why this powerful lighting accessory is a game-changer for your off-road journeys.
https://www.hereticstudio.com/products/toyota-tundra-trd-pro-2022-20-led-light-bar?variant=43716267114715
Unmatched Durability and Performance:
At the core of our kit lies the 6 series LED 20-inch light bar, renowned for its exceptional ruggedness and reliability. This light bar is specifically engineered for forward-facing applications and seamlessly integrates into the bumper of your Toyota Tundra TRD Pro. Crafted from CNC machined aircraft-grade aluminum, the housing of this light bar sets a new standard for durability and quality, ensuring it withstands the harshest conditions.
Premium Features for Optimal Illumination:
Equipped with the highest-grade LEDs and circuit boards, our 20-inch light bar delivers astonishing brightness while effectively managing heat dissipation. To optimize light output, we have meticulously designed and fine-tuned the internal reflectors, guaranteeing the best possible illumination. Customization is key, and you can personalize the reflector beam configuration to suit your preferences, whether you desire all spot, all flood, or a combination of both.
Tailored for Your Needs:
We understand that off-road enthusiasts have unique requirements, which is why we offer additional customization options for your Toyota Tundra TRD Pro LED Light Bar. Choose between a clear lens or opt for an amber lens to enhance visibility in dusty and foggy conditions. Want to match your rig's aesthetic? We've got you covered! Personalize the bezel color to seamlessly blend with your vehicle's style. Just give us a call, and we'll make it happen.
Crafted in the USA:
At Heretic, we take pride in designing, manufacturing, and assembling our products right here in the USA. Our commitment to quality and craftsmanship ensures that each component of the Toyota Tundra TRD Pro Behind The Grill - 20" LED Light Bar kit undergoes rigorous testing and meets the highest standards. When you choose our kit, you're not only investing in top-notch performance but also supporting local manufacturing and the American economy.
Conclusion:
Upgrade your Toyota Tundra TRD Pro with the Toyota Tundra TRD Pro Behind The Grill - 20" LED Light Bar kit and unlock a whole new level of off-road visibility and performance. With its durable construction, powerful illumination, and customizable features, this light bar is tailored to meet the demands of even the most challenging terrains. Experience the difference that quality, reliability, and precision engineering make in your off-road adventures.
Illuminate your path with confidence and style with the Toyota Tundra TRD Pro Behind The Grill - 20" LED Light Bar kit. Designed to withstand the elements and crafted for your driving pleasure, this powerful lighting accessory will transform your off-road experiences.
Note: Please refer to your local regulations regarding the installation and use of aftermarket lighting accessories.
Designed for thrill-seekers like you, our Toyota Tundra TRD Pro Behind The Grill - 20" LED Light Bar kit is ready to illuminate your journey. Get in touch with us today and embrace the power of exceptional off-road lighting.
Heretic Studio - Beyond Lumens!